Uber Entertainment

Uber Entertainment

Location:

Kirkland, WA

Official Website:

Blog:

Forum:

Facebook:

Twitter:

Employees:

Jobs:

Contact:

CEO:

Bob Berry
General Information
Edit
Uber Entertainment Inc. is a small, privately held video game development studio located in Kirkland, WA. Founded in March 2008 by a team of veteran developers, Uber focuses on combining innovative gameplay with state of the art technology.
A large portion of the developers of Uber Entertainment worked at Gas Powered Games on titles like Supreme Commander and Demigod, some of them have been part of Cavedog, the studio which developed Total Annihilation (released 1997).
Uber Who is Who
Edit
The Uber developers actively participate in conversations on their forum and have been sharing interesting insights about the early development process on their blog. Here is a list of their nick names, real names and functions at Uber:
| | | |
| --- | --- | --- |
| o | Bob Berry | CEO |
| Scathis | John Comes | Creative Diretor |
| XShadowStormX | Logan DeMelt | Director of Test / Associate Producer |
| Ekanaut | Chandana Ekanayake | Art Director |
| bgolus | Ben Golus | Effects and Shader Department |
| neutrino | Jon Mavor | CTO |
Last but not least we should not forget to mention Nyx, who is serving as moderator on the official forums and Aung Zaw Oo (AZO), animator and Uber ninja.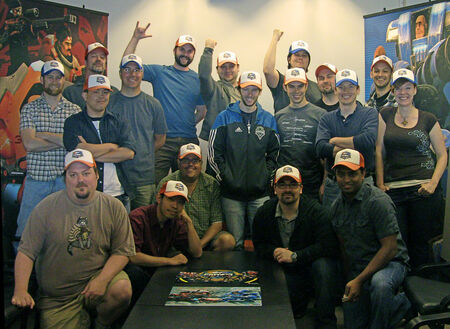 Miscellaneous Information
Edit
John Comes (Scathis) and Bob Berry (o) were the lead designers of Demigod before they left Gas Powered Games.
Jon Mavor (neutrino) was part of the developer team which created Total Annihilation.
Logan DeMelt (XShadowStormX) was QA tester for THQ during the development of Supreme Commander.
Neutrino plays CORE in Total Annihilation and is a die hard Iron Maiden fan.
After balancing over 300 units Scathis has sworn not to develop another RTS anytime soon.
CliffyB from Epic Games was interested in hiring AZO but it went all wrong because the Uber team didn't put enough stamps on the parcel.
Two powerful game-ender units (Experimentals) in Supreme Commander are named after John Mavor (neutrino) and John Comes (Scathis), the UEF experimental artillery Mavor and the Cybran experimental mobile rapid-fire artillery Scathis.